Computer Science Vocational Students at IES San Clemente are most welcome to submit their videos to secbi@iessanclemente.net: "Farewell to Maggie" of 3 minutes max.
Deadline for Video submissions: May 21, 2019, 23:00 pm.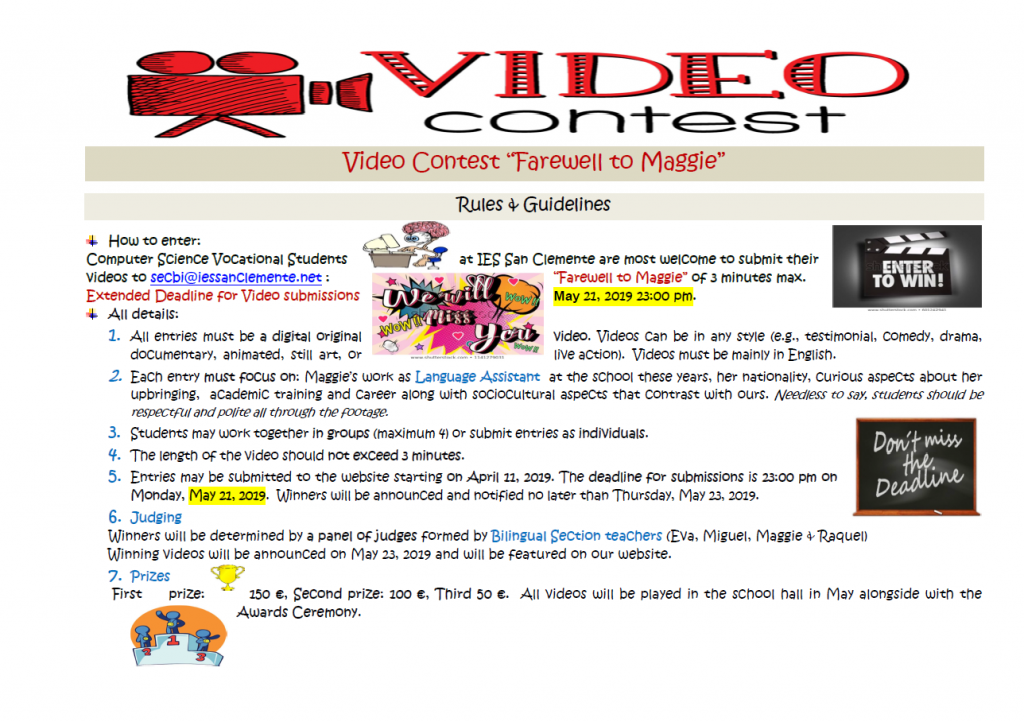 All details:
All entries must be a digital original documentary, animated, still art, or live action). Videos must be mainly in English.
Each entry must focus on: Maggie's work as Language Assistant at the school these years, her nationality, curious aspects about her upbringing,  academic training and career along with sociocultural aspects that contrast with ours. Needless to say, students should be respectful and polite all through the footage.
Students may work together in groups (maximum 4) or submit entries as individuals.
The length of the video should not exceed 3 minutes.
Entries may be submitted to the website starting on April 11, 2019. The deadline for submissions is 23:00 pm on Monday, May 21, 2019. Winners will be announced and notified no later than Thursday, May 23, 2019.
Judging: Winners will be determined by a panel of judges formed by Bilingual Section teachers (Eva, Miguel, Maggie & Raquel)Winning videos will be announced on May 6, 2019 and will be featured on our website.
PrizesFirst prize: 150 €, Second prize: 100 €, Third 50 €.  All videos will be played in the school hall in May alongside with the Awards Ceremony.